Updated on June 23rd, 2021 by Nikolaos Sismanis
Founded in 1989, OrbiMed Advisors is an investment firm with approximately $21.4 billion of assets under management (AUM). The company invests in a wide spectrum of healthcare businesses: from private start-ups to large multinational companies.
Scouting the world for innovations that will assist in making human lives healthier, the OrbiMed team has helped nurture and commercialize some of today's most successful healthcare companies. OrbiMed was founded in New York City but has also expanded its operations in San Francisco, Shanghai, Mumbai, Herzliya, and Hong Kong.
Investors following the company's 13F filings over the last 3 years (from mid-May 2018 through mid-May 2021) would have generated annualized total returns of 7.89%. For comparison, the S&P 500 ETF (SPY) generated annualized total returns of 18.60% over the same time period.
Note: 13F filing performance is different than fund performance. See how we calculate 13F filing performance here.
You can download an Excel spreadsheet with metrics that matter of OrbiMed Advisors' current 13F equity holdings below:
Keep reading this article to learn more about OrbiMed Advisors.
Table Of Contents
OrbiMed Advisors' Investing Strategies
OrbiMed focuses solely on investing in the healthcare sector, leveraging its team's expertise in the industry to identify the most promising companies and help them to commercialize a new, revolutionary product.
To separate its operations based on its different types of investments, OrbiMed allocates capital by embodying three different strategies:
Public Equity:
OrbiMed manages numerous public-equity funds, including both long and short event-driven funds, and various investment trusts. This segment focuses on all types of publicly traded healthcare companies, such as biopharmaceuticals, medical devices, and healthcare services stocks. We have included some of OrbiMed's largest public equity holdings below.
Private Equity
OrbiMed's second investment strategy revolves around seeking the most promising private start-ups, to which the fund is usually a leading investor, intending to have an active role in the company's journey.
OrbiMed's expertise in identifying the future winners in the healthcare sector has been well-established, considering that the company numbers more than 140 successful exits. Some of them include:
Galecto (GLTO):
Galecto is a clinical-stage biotech firm that develops molecules to treat fibrosis, cancer, inflammation, and various other related diseases. OrbiMed's managers participated in Galecto's Series C round back in October of 2018 when the company raised $79 million.
Exactly 2 years after the company IPOed on the NASDAQ, it is currently valued at around $373 million. Considering that shares are missing from the fund's latest 13f filing, it's more than likely that management sold its position, booking a quick profit in a relatively short period of time.
Invitae (NVTA):
One of OrbiMed's most successful early picks was its participation in Invitae's Series F private round, helping the company raise $120 million. Today, Invitae is one of the most hyped DNA-processing companies, growing revenues at 35% year-over-year and boasting a market cap of $6.45 billion, clearly displaying OrbiMed's investment intuition.
Arrowhead Pharmaceuticals (ARWR):
Arrowhead Pharmaceuticals develops medicines that treat intractable diseases by silencing the genes that cause them. In 2016, the company announced a private offering with a select group of investors, including Orbimed, RA Capital Management, and Perceptive Advisors, raising $45 million at a price of $5.90 per share. Today, shares are trading at $85, implying a 10-fold increase of OrbiMed's funds within just a few years. To mitigate its risk OrbiMed had been gradually trimming its position, booking some profits, and recently exited its equity stake completely.
We have previously covered OrbiMed's co-investors mentioned like RA Capital and Perceptive advisors, which you can find here, and here, respectively.
Private Credit/Royalty
OrbiMed's third investment strategy is providing healthcare firms with non-dilutive structured debt in exchange for royalty rights on their product sales. For the fund to minimize the risk of a company defaulting, management will only loan to commercial-stage companies to ensure its royalties will start flowing in from the get-go.
By making sure that OrbiMed's debt is non-dilutive, it also ensures that its investment's original shareholders are also incentivized to perform well. This is because they retain their original equity, therefore creating a win-win situation for all.
OrbiMed's Portfolio & Top Holdings
The fund's public-equity portfolio is well-diversified, comprising of 96 individual stocks, all of which operate in the healthcare sector. No holding accounts for more than 7% of its total portfolio, except for Springworks, which accounts for that much.
The 10 largest holdings collectively occupy just over 40% of the portfolio's total weight, which suggests a diversified capital allocation.
Source: OrbiMed's 13f filing, Author
During the quarter covering the fund's latest 13f filing, the company made the following noteworthy new Buys/Sells:
New Buys:
Gracell Biotechnologies Inc. ADR (GRCL)
Haemonetics Corp. (MA) (HAE)
Terns Pharmaceuticals Inc (TERN)
Ikena Oncology Inc (IKNA)
Chemomab Therapeutics Ltd (CMMB)
New Sells:
Prevail Therapeutics Inc (PRVL)
Teva Pharmaceutical Industries Ltd (TEVA)
908 Devices Inc. (MASS)
Change Healthcare Inc (CHNG)
Zymeworks Inc (ZYME)
Syndax Pharmaceuticals Inc (SNDX)
Acadia Pharmaceuticals Inc (ACAD)
Viatris Inc (VTRS)
Some of its top holdings include:
Springworks Therapeutics, Inc. (SWTX)
Springworks is OrbiMed's largest holding, with the fund holdings around 12.6% of the company's shares. Unlike Galecto and Invitae, which the fund sold upon their IPOs, Springworks equity was held upon its transition from a private to a public company, hence the fund's large stake.
Since the company's initial listing price of around $23 around a year ago, shares have surged to a current all-time high of $79, reaffirming the fund's decision to hold on to the stock. Considering that OrbiMed's participation in both of the company's two funding rounds, the stock's current market cap of $3.9 billion means that the fund is sitting on massive unreleased gains, making Springworks one of its most successful investments ever.
Investors should be wary of the fact Springworks is essentially still a pre-revenue company, currently trading at more than 200 times its forward sales. Once and if sales start snowballing its valuation could be well justified. Until then, however, the stock remains risky for the average investor.
The position was once again trimmed by 16% as of Orbimed's latest 13F filing, most likely for the fund to book some gains off of the stock's prolonged rally.
Bristol-Myers Squibb Company (BMY)
Bristol-Myers Squibb, following its Celgene acquisition, has become one of the fund's largest holdings. OrbiMed has been growing its equity stake in the company since 2007, which is a testament to the stock's ability to deliver long-term returns.
The company's current long-term debt position is at a huge $44.5B following the Celgene and MyoKardia acquisitions. Consequently, however, BMY currently displays a diversified portfolio of industry-leading assets. Revlimid is the second-bestselling drug in the world behind AbbVie's immunology juggernaut Humira.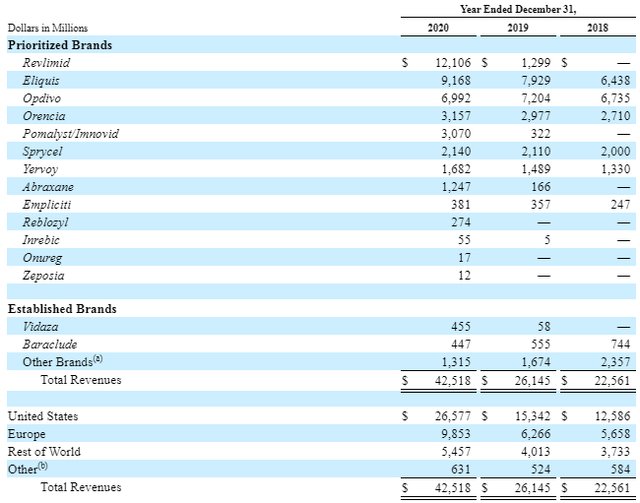 Source: 10K
Despite BMY shifting towards a younger and more diversified portfolio of medicines, with sales and profits anticipated to remain robust at least in the medium term, the stock is currently trading near an all-time low forward P/E of 8.6. The stock is also offering a satisfactory yield of around 3% at its current price levels, which dividend growth investors are likely to appreciate considering the stock's rapid dividend increases.
OrbiMed hiked its position by 27% during the quarter.
Merck & Co (MRK)
One of the mega-cap pharma firms in the fund's portfolio is Merck & Co, which accounts for around 4.6% of its holdings. The company has been enriching its treatment portfolio by executing various acquisitions, such as its recent acquisition of vaccine developer Themis.
The company has been a stable investment for OrbiMed, consistently raising its dividends and currently yielding a solid 3.4%. The company's most recent dividend increase was by 6.6%, to a quarterly rate of $0.65, further reassuring investors of its financial resilience.
Source: Company filings, Author
The fund has been holding shares since early 2016, having enjoyed some low volatility, predictable returns from this pharma behemoth. Shares are currently trading near a decade-low forward P/E of around 12.6, which, combined with Merck's robust focus on shareholder returns, could signal a great buying opportunity for new investors to jump in.
In addition to the dividend, Merck is also continuously buying back its shares. While not an aggressive buyback play, at its current valuation, the company should be able to reduce its share count quite rapidly. Stock repurchases at a forward P/E in the low teens are likely to unlock more shareholder value creation than rapid dividend increases.
OrbiMed continued adding to its position, which increased by around 40% as of its latest filing.
Boston Scientific Corp (BSX)
Boston Scientific is Orbimed's third-largest holding, accounting for around 4.6% of its public equity portfolio. It is a relatively new position for the fund, initiated during Q2 of 2020. The company recently achieved FDA approval for its Ranger Drug-Coated Balloon to treat patients with peripheral artery disease, which should add to the company's top line over time.
Shares are currently trading a forward P/E of 26.5 currently. While the stock is definitely not cheap, analysts expect sales to increase by around 18.61%+ next year, likely justifying the current premium.
OrbiMed hiked its stake in Boston Scientific by 6% during the latest quarter.
Vertex Pharmaceuticals Incorporated (VRTX)
Vertex Pharmaceuticals is Orbimed's sixth-largest holding, accounting for around 3.8% of the fund's total portfolio. The company engages in developing and commercializing therapies for treating cystic fibrosis. The company's revenues have been growing constantly as it grows its patient base, resulting in expanding gross margin.
The company has started allocating its increasing profits in stock buybacks, repurchasing around $830 million worth of shares over the past 4 quarters. Vertex currently trades at a decade low valuation of around 20.5X its forward net income. Investors looking for a reasonably valued, quality company in the sector are likely to find Vertex appealing, as a result.
OrbiMed increased its position by 36% during the quarter, taking advantage of Vertex's seemingly attractive valuation.

Final Thoughts
OrbiMed's choice to separate its investment strategies into three different categories has allowed its experienced team to scout and identify some of the healthcare sector's current superstars from early on. While the company's public equity portfolio has not outperformed the overall market, it's important to remember that the fund's multi-bagger investments are not included in our estimated returns, as they were private investments.
Considering that OrbiMed's know-how in the healthcare sector is well-proven, investors can utilize its public-equities portfolio to be provided with some potentially attractive investments.
At the same time, we recommend that retail investors perform their own due diligence and be wary of their capital allocation in OrbiMed's holdings. Several of those remain very speculative, featuring negative free cash flows, and generally require industry-related knowledge in order to understand their business models.
Additional Resources:
Baker Brothers' 93 Stock Portfolio: Top 4 Holdings Analyzed
Melvin Capital's 56 Stock Portfolio: Top 10 Holdings Analyzed
Appaloosa Management's 40 Stock Portfolio: Top 10 Holdings Analyzed
Viking Global's 75 Stock Portfolio: Top 10 Holdings Analyzed
Lone Pine Capital's 37 Stock Portfolio: Top 10 Holdings Analyzed