Published on May 8th, 2018 by Bob Ciura
Pfizer Inc. (PFE)  is not the most exciting stock to own, since it is not likely to produce huge growth rates. But this does not necessarily mean it is a bad investment. Far from it, particularly for income investors. Pfizer offers investors a steady stream of dividends and a high yield, backed by a strong and highly profitable business model.
Pfizer is a good example of a slow-and-steady dividend stock. It has a long history of steady growth, and dividends. The company has been in operation for more than 100 years. Combined with its 3%+ dividend yield, these two qualities earn Pfizer a place on our list of "blue-chip" stocks. You can see the full list of blue chip stocks here.
Pfizer has a dividend yield of approximately 3.9%, which is more than double the average stock in the S&P 500. And, thanks to a robust product pipeline, it has the financial strength to raise its dividend each year. The stock also has a modest valuation right now, which could make it attractive for value and income investors.
Earnings Overview
Pfizer is one of the largest U.S. pharmaceutical companies, with a market capitalization of $210 billion. It researches and manufactures drugs for a variety of therapeutic areas. Pfizer operates two reporting segments:
Innovative Health (60% of revenue)
Essential Health (40% of revenue)
Common therapeutic areas for Pfizer are internal medicine, oncology, immunology, inflammation, and rare diseases. Pfizer's global portfolio is based mostly on biopharmaceuticals, but it also includes vaccines.
On May 1st, Pfizer released first-quarter financial results. Overall, the results were strong. Revenue of $12.91 billion missed expectations by $240 million, but rose 1% from the same quarter a year ago.
Source: Earnings Presentation, page 7
Adjusted earnings-per-share of $0.77 beat expectations by $0.02, and increased 12% year-over-year. Double-digit earnings growth was a strong performance for a mega-cap like Pfizer, and it was largely due to the company's Innovative Health segment.
Driven by continued strength from its anchor products, specifically Ibrance, Eliquis, and Xeljanz, Innovative Health segment revenue increased 6%. This more than offset the 5% decline in the Essential Health business, which was the result of legacy Hospira product supply shortages as well as product exclusivity losses. Because of this, Pfizer is investing heavily in its pipeline for future growth.
Growth Prospects
As a large, global pharmaceutical company, research and development is crucial to Pfizer's growth. The major risk for a company such as Pfizer, is patent expiration. Losing blockbuster drugs can result in huge lost revenue, as occurred when Lipitor went off patent.
Consequently, Pfizer invests billions in R&D, and the company has enjoyed a successful track record of achieving approvals. Pfizer has had 22 key approvals since 2011. The end result, is that the company has a strong product pipeline, which will help fuel future growth.
Source: 2018 JP Morgan Health Care Conference, page 3
Pfizer believes it will achieve as many as 30 product approvals over the next five years, 15 of which have the potential to be blockbusters. It expects seven of the 15 to receive approval by 2020. It also has 14 biosimilar assets in development, 8 of which are mid-to-late stage.
Specifically, Pfizer has a very strong oncology portfolio. As of February 2018, Pfizer had 13 oncology products in Phase I of development, with another 4 in Phase II and 6 in Phase III. It also had 6 additional products in registration.
Source: 2018 Cowen Health Care Conference, page 3
In addition to product innovation generated by R&D, Pfizer has also used acquisitions to drive growth. Its two biggest deals in recent years, were the $17 billion takeover of Hospira, and the $14 billion acquisition of Medivation. These acquisitions not only brought Pfizer instant revenue growth, but also provide the opportunity for earnings growth from cost synergies.
Pfizer's earnings growth is boosted by share repurchases. Pfizer utilized $6.1 billion of share repurchases in the first quarter. As of May 1st, Pfizer had $10.3 billion remaining on its share repurchase authorization. This represents approximately 5% of Pfizer's current market capitalization.
Thanks to these various growth catalysts, 2018 is likely to be another good year for Pfizer. The company expects revenue in a range of $53.5 to $55.5 billion, along with adjusted earnings-per-share of $2.90 to $3.00. According to Pfizer's guidance, revenue is expected to increase 1.9% to 5.7%, while earnings-per-share are expected to rise 9% to 13% for 2018.
Valuation & Expected Returns
Pfizer expects earnings-per-share of $2.95, at the midpoint of 2018 guidance. Based on this, Pfizer stock trades for a price-to-earnings ratio of 12.0. This is a low valuation for Pfizer. The stock trades at less than half the price-to-earnings ratio of the S&P 500 Index. In the past 10 years, Pfizer held an average price-to-earnings ratio of 19.9, according to ValueLine.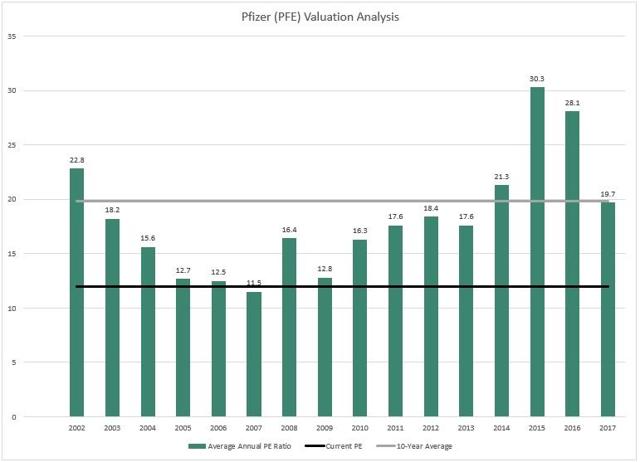 Data Source: ValueLine
With positive revenue growth and a high rate of earnings growth, we believe Pfizer should hold a higher valuation than it currently does. A price-to-earnings ratio of 14-16 is a reasonable estimate of fair value for Pfizer. This would result in a fair value share price of $41 to $47 for the stock, meaning Pfizer is currently undervalued by approximately 17% to 33%.
Our estimates indicate Pfizer is significantly undervalued, which could add meaningfully to annual returns moving forward. For example, over the next five years, an expansion of the price-to-earnings ratio to our estimate of fair value would add roughly 5% to annual returns.
In addition, Pfizer will generate returns through earnings growth and dividends. While the company may not be able to reach 10%+ annual earnings growth over the long-term, a projected earnings growth rate of 4%-6% annually is a reasonable set of expectations. Total returns could be comprised of the following:
2%-4% revenue growth
2% share repurchases
4% dividend yield
Therefore, Pfizer's total returns—which include earnings growth, dividends, and an expanding valuation multiple—could reach 13%+ each year, moving forward.
Final Thoughts
Pfizer stock fell 3% and turned negative for 2018 after announcing earnings, even though the company had a good quarter overall. Revenue is being weighed down by patent expirations, but the company is moving quickly to build its pipeline. The heavy investment in R&D and acquisitions should pay off in the long run.
In the meantime, Pfizer stock is undervalued, with a nearly 4% dividend yield. These qualities make Pfizer an interesting option for value and income investors.